Take inspiration from stars who have succeeded. They prove you can be cool without lighting up. Here are some of the ways they kicked the habit..
As President Obama prepares for the political battles that lie ahead he is also waging a personal battle – to quit smoking. The new world leader – now officially non-smoking – has publicly admitted falling off the wagon during the race for the presidency. Often spotted chewing nicorette gum, he claims to have made himself "much healthier" but has struggled to kick the habit for good.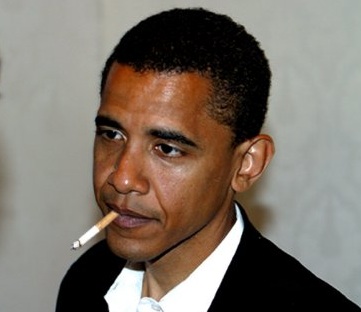 And the President is far from alone. There's an army of high-profile smokers who can't or don't want to kick the habit. Party girls Kate Moss, Britney Spears and Sienna Miller are always being snapped fag in hand. But for every celeb puffing away on a ciggie there's another who has successfully quit. Here we reveal how a few famous faces have beaten the urge for a nicotine fix – and how you can follow in their footsteps.
Charlotte Church
Songbird Charlotte ditched the fags on New Year's Day 2006, soon after getting together with partner Gavin Henson.
The squeaky-clean rugby star, a strict non-smoker, enrolled as an ambassador for helping people in Wales to give up cigarettes after the introduction of the smoking ban.
With her man's encouragement, and feeling motivated by her first pregnancy, the opera singer-turned pop star was able to give fags the boot.
And despite falling off the wagon last year after Wales triumphed in the Six Nations, she has stuck to her promise – urging others to do the same by – saying smoking "looks disgusting". "I smoked about 20 or 25 a day and I'd tried to give up a couple of times before but only lasted half a day," says Charlotte. "The first two weeks were tough and the first month I still really missed it, but I feel so much healthier now and can really feel the difference in my voice."
Quit tips: Most women stop smoking when they discover they're pregnant – the trick is sticking to it after the baby is born. The first few months after childbirth are stressful and it's crucial you get support from family, friends and even your GP, to help you stick to your resolution.
Dr Andy McEwen, Cancer Research UK deputy director of tobacco studies, says: "Up to 60 per cent of women who stop smoking at some point during pregnancy relapse within six months of the birth, while up to 80 per cent return to smoking within 12 months.
"Partner support is very important. This needs to be maintained to ensure you don't return to smoking."
Gwyneth Paltrow
Super-healthy Gwyneth stubbed out her last ciggie when she was 24, and now she will only light up for her movie roles.
She is among just 10 per cent of quitters who succeed through will-power alone.
And while Gwyneth admits to still wanting the odd fag, she says she takes pleasure from knowing she can control her cravings.
If you're planning to use Gwynnie's iron-will method, the trick is to really want to give up – otherwise you'll soon be back on the ciggies.
Quit tips A good trick is to make an effort to change your routine to avoid the times you usually light up.
This might be when you're waiting for the bus, out with friends, or like Gwyneth, relaxing after work.
By finding other things to do at these times, you'll make it easier to resist the urge to smoke.
Dr McEwen said: "Motivation to stop smoking is crucial in any quit attempt, but on its own it is often not enough.
"At times when people are feeling weak they can find it very difficult to resist the urge to smoke.
"There is medicine and help available that significantly increase your chances of giving up, so if willpower alone isn't working, talk to your GP."
Charlize Theron
Oscar-winner Charlize was a three-packets-a-day girl until she jacked it in favour of more healthy habits such as yoga and pilates.
The glamorous star, who admits she was once a "bad, bad smoker", used regular exercise to beat the stress that often causes ex-smokers to relapse.
This method works because the natural high after working out combats any anxiety felt by smokers worried about missing their fix. Research has shown that most smokers don't crave cigarettes after exercise, and so are less likely to fall off the wagon.
Quit tips: Combined with a change in routine to avoid smoking danger points, exercise is a real winner for smokers struggling to quit.
Dr McEwen says: "Short bursts of moderate physical activity can help reduce urges to smoke.
"So if you're taking brisk walks at lunch time or walking up some stairs every time you want to have a cigarette, then this will definitely help.
"Again, this should be in addition to getting professional support or using effective medications.
Ashton Kutcher
Chain-smoker Ashton used to puff on an incredible 40 cigarettes a day, but was pushed to quit by health-conscious wife Demi Moore.
The Hollywood actor managed to kick his addiction by reading self-help books examining why people smoke. A favourite was The Easy Way to Stop Smoking, by Allen Carr.
After quitting, Ashton told a magazine: "I read the book. It gives you guidance and lets you smoke as you read – and on the final page it says 'And now, quit', and I closed the book, and I did!"
Quit tips: Self-help books suit those who are worried about asking for help or therapy costs. Research authors first online to check their credentials. Hypnosis DVDs and CDs can also be effective and will help you relax, too.
Here are a few of the die-hard smokers who just can't resist another puff..
Kate Moss
Supermodel Kate is famous for her four-pack-a-day habit, which some would say is taking its toll on her skin.
Lily Allen
Often dubbed fag-ash Lil, serial puffer Lily quit in 2008 after hypnosis, but soon fell back into her old ways.
Colin Farrell
The Irish actor makes no bones about his fondness for chain-smoking. And while the self-confessed bad boy seems to have calmed down, this is one habit he can't kick.
Sienna Miller
Man-eater Sienna loves a drag on a fag. Despite the efforts of old flame Jude Law to get her to quit, her nicotine habit has never wavered.
Britney Spears
Not known for her self-restraint, Britney's smoking habit has won her the nickname Puff Mama in the US.
She sparked outrage last year when photos were leaked of her two-year-old son playing with her Marlboro Lights.
Visit www.cancerresearchuk.org for more information on quitting
Five ways to retrain your brain
Hypnotherapist Marisa Peer has worked in London and America for 20 years and has many celebrity clients. Here, she gives her top tips for quitting…
(1) The first and most important thing to do is stop associating smoking with pleasure. Instead, focus on something like formaldehyde or paint-stripper, and try to imagine this is what you are inhaling every time you smoke. If you see it as something that will cause you pain, rather than pleasure, you will be able to stop yourself picking up a cigarette.
(2) Next, focus hard on all the positive points about quitting. Think about how much healthier you'll be, how much glossier your hair and nails will look. This will help you see giving up as something that will give you pleasure, and make it much easier to do.
(3) Repeat the above points to yourself to make sure you really learn them. Say them out loud every day, and put reminder notes in places you can see them. Think about making yourself a CD that repeats the positive points about quitting. The more you drum them into your mind, the less likely you are to fall off the wagon.
(4) When you quit smoking there is still a lot of nicotine in your system, which makes you crave it. Having a session in a steam room or sauna, and drinking lots of water and orange juice will help cleanse your system quickly, making cravings easier to bear.
(5) Although you may want to, try not to eat too much. While it may keep you occupied for a while, overdoing your food will get you into an "I don't care" mentality that could soon have you reaching for the cigarettes. The weight you will gain from too much snacking is also likely to tempt you back into smoking, as many people see cigarettes as a tool for keeping the weight off.
Source: Sunday Mirror / UK
Filed under:
Gossip
,
Music
,
Strange news
,
Television