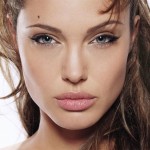 Sony envisions a mouth-watering Cleopatra franchise with Hollywood's only female action star, Angelina Jolie, as the mighty Egyptian Queen. James Cameron, post-Avatar, is being conjured to take on this project because he's one of the few directors Sony chairman Amy Pascal would trust with such a risky mammoth-budget 3-D period spectacle. But can she and producer Scott Rudin land him? (The answer I hear is yes).
Jolie would play the Cleopatra described in Stacy Schiff's book Cleopatra: A Life, from a screenplay by Brian Helgeland (Green Zone, Mystic River, L.A. Confidential). This movie, like D.W. Griffith's Intolerance, Joseph L. Mankiewicz's Cleopatra (the most expensive movie ever made—$300 million in 2010 dollars—that almost wrecked 20th Century Fox), or HBO's mini-series Rome, would be huge in every way: big money, big risk.
Thompson on Hollywood
Jolie is the only marquee star who could remotely pull it off. The actress has expressed an affinity with the character (see quotes below). Writer Schiff, whose biography delves into the "true" Cleopatra, thinks Jolie is perfect for the role and hopes Brad Pitt will play Marc Antony (who wouldn't?). While Jolie is contending with the recent Bosnian protest against her directorial debut, and preps the December 10 opening of her next movie, The Tourist, co-starring Johnny Depp, Cleopatra speculation will continue to run wild.
Cameron ups the ante in more ways than one. While he is prepping an Avatar sequel and The Dive at Fox, his home for decades, he is free to go elsewhere and is producing Guillermo del Toro's Mountains of Madness at another studio, Universal. Cleopatra has long fascinated Hollywood, from Theda Bara and Claudette Colbert bathing in milk to Elizabeth Taylor. Steven Soderbergh was going to do a Cleopatra musical with Catherine Zeta-Jones, which fell apart.
Here's what Jolie said about playing Cleopatra:
"I will play it differently to Elizabeth Taylor, but I could never be as lovely as she was. We are trying to uncover the truth about her as a leader and not just a sex symbol which she really wasn't—she didn't have many lovers, maybe only two, and they're men she had children with…She was misunderstood and her life story was written wrongly. I always thought her life was very glamorous. Then I read her story and found a different side to her – that she was a mother, leader and an intellect who spoke five languages! Her upbringing also reflected her relationship with Rome—all that is much more interesting than what she was summed up to be."
Filed under:
Gossip
,
Movies