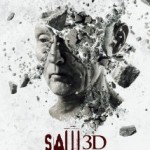 Halloween is coming, and that means it's time for the new 'Saw' movie! We have a sneak peek at what's being called the final installment of the franchise in eye popping 3D!
'Saw 3D,' in theaters October 29, brings back original cast member Cary Elwes from the very first installment, as well as Tobin Bell, Costas Mandylor and Betsy Russell and James Van Patten. The plot follows a group of Jigsaw survivors who gather to seek the support of a self-help guru and fellow survivor Bobby Dagen (Sean Patrick Flanery), a man whose own dark secrets unleash a new wave of terror
The seventh film in the 'Saw' franchise was directed by Kevin Greutert, who also directed 'Saw VI.' Can audiences handle the terror in 3D? Find out Halloween weekend!
Movies