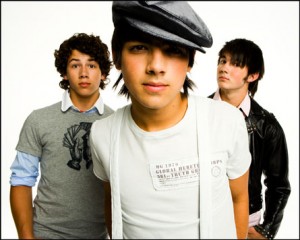 Jonas Brothers might be getting "Camp Rock 3" on their sleeves, if Zack Taylor can be trusted. According to the celebrity blogger, Disney executives have reached out to some of those on board the "Camp Rock 2: The Final Jam" after the TV movie sequel opened to a major success upon its TV premiere.

On the possibility of another "Camp Rock" movie, one insider told Zack, "They want to do one more… Camp Rock 3!" The inside source further noted that there won't be any official confirmation until everyone has come on board. "They won't make an official announcement until everyone is signed," explained the source, "but they have already reached out to some of us… It's 99%!"

JONAS L.A. "Drive" Music Video
Detailing on what the executives might have in stores this time around, the insider spilled that the third one is likely to get a big screen treatment. "The third and final film will probably be released into theaters instead of on TV, and shoot back in Canada sometime next summer for a 2012 release," the source said. "I'm excited to see what they do with all the new characters, and hopefully fans are too."
Starring Demi Lovato and Jonas Brothers, "Camp Rock 2" was debuted on Disney Channel on Friday night, September 3. It pulled in a staggering number of viewers with over 8 millions people tuned in. The number made it television's No. 1 Labor Day weekend telecast ever among kids aged 6-11 and tweens aged 9-14.
In a press release, Disney calculated that the movie would have made around $63 million on opening night if it were released in theaters. The network put into consideration that every one of those viewers paid the nationwide average of $7.95 per ticket.
Tags:
camp rock
,
cd
,
demi lovato
,
Disney channel
,
drive
,
hollywood
,
jonas brothers
,
Movies
,
Music
,
musical
,
sequel
,
video
,
zack taylor
Filed under:
Gossip
,
Movies
,
Music
,
Television