Sunday, January 16th, 2011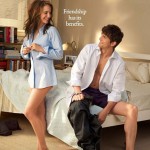 Despite the 16-year age gap and the weeks apart while filming, Ashton Kutcher and Demi Moore are still besotted with each other eight years after they first met. And perhaps that's just as well, given the steamy romps Ashton took part in for his latest film No Strings Attached.
The adult-rated movie is the ex-Calvin Klein model's hottest yet, full of nudity and flirtatious dialogue. He plays a man who embarks on a sex-only relationship with a close friend, played by actress-of-the-moment Natalie Portman.