Thursday, August 26th, 2010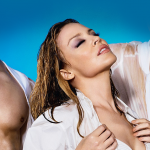 On the first "America's Got Talent" semi-finals results show, Australian pop star Kylie Minogue performed her new single "Get Outta My Way", complete with big hair, black minidress and half-dressed cabaret backup dancers.
"Get Outta My Way" is Minogue's second single from her 2010 album "Aphrodite." "Way" will officially drop on Sept. 27. "All the Lovers" was the first single and it debuted in June at No. 1 on the U.K. charts. Minogue can also be seen in a cameo role as a rock star in the lesbian werewolf movie "Jack and Diane" starring Juno Temple ("The Other Boleyn Girl") and Riley Keough ("The Runaways").
"America's Got Talent" airs Tuesday and Wednesday nights at 9 p.m. ET on NBC. See the video from this live below ..