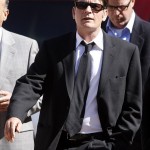 Charlie Sheen is now out of hospital and plans to return to work on Tuesday
A porn star who partied with Charlie Sheen just hours before he was hospitalized yesterday says he was 'wasted out of his mind'.
Kacey Jordan, 22, told TMZ she 'couldn't keep up' with the Two and a Half Men star, who was rushed to the emergency room in the early hours suffering 'severe abdominal pains.'
Sheen is now back at home and 'feeling great', according to the sitcom's producer Mark Burg, who adds the actor is expected to return to work on the show on Tuesday.
Adult film star Jordan, who claims she was at the actor's Beverly Hills home, says their 36-hour bender involved '$20,000 worth of drugs'.
She claims a drug dealer was called to the $8 million house late at night on Wednesday.
'This guy comes in with a Gucci satchel, all professional… He sits down at the kitchen table and dumps out like five eight-balls' (slang for an eighth of an ounce, or 3.5g each, of cocaine).
'We're talking twenty grand worth of coke.'
Jordan claims the actor was smoking cocaine from a pipe while watching porn with her and her friends for two hours.
She also says he offered to buy her a baby blue Bentley, after she admired one he had bought for another woman present, and asked her to spend more time with the group 'because they needed a blonde.'
The porn star, who has hired a lawyer, says she left the house hours before the 911 emergency call was made.
'I had to leave because if I didn't leave I'd be in the hospital. I couldn't keep up,' she says.
A call to 911 was made by the star's neighbour and friend Dr. Paul Nassif – husband to Real Housewives Of Beverly Hills star Adrienne Maloof, after they themselves received a call from someone within Charlie's house.
'We did receive a call from Charlie's house this morning, asking for medical assistance and advice,' the couple tell People magazine in a statement, 'and immediately insisted the caller dial 911. Dr. Nassif also immediately called 911.'
A Los Angeles City Fire Department spokesman confirmed that they had received a 911 call requesting help at the Beverly Hills address where Sheen lives.
'We had a call to dispatch at 6.35am this morning,' he said.'This call came into dispatch as a medical run and we responded out there to the location.
'We had one of our rescue ambulances, which has two paramedics, and we had one of our engines, which has four fire fighters on board and one of our EMS commanders respond to that location.
'We transported at least one individual from that location to an area hospital.'
Sheen was carried out of his Los Angeles home on a stretcher and loaded into an ambulance at 7am.
TMZ claims two 'young women' left the house at the same time the actor was carried out with a towel partially covering his face.
The other woman is reported by Radar to be 19-year-old porn star Melanie Rios who is said to have been telling friends she was partying at the actor's house.
Rios describes herself on the site as: 'xxx new doll; model; barbie and your little fantasy. sweety by day; naughty by noon and dirty by sunset;)'
Sheen's representative Stan Rosenfield said he could not comment on Miss Jordan's allegations.
'I can't comment because I have no idea if it's true,' he told TMZ. 'You choose to believe your source. I don't.'
The publicist said Sheen had spent the morning 'sleeping' inside the hospital's emergency room.
Despite his latest hospital visit, Sheen has no intention of changing his ways, according to sources.
'He doesn't think he's going to die,' a friend of the star told People. 'He doesn't want to stop.
'In his eyes, he thinks, "I'm having fun, so what? I'm making $2 million a week, the show has the best ratings, I show up for up work. What's the problem?"
'He definitely did not OD but, yes, he was partying,' they added.
Help: Sheen's neighbor Dr Paul Nassif and wife Adrienne Maloof-Nassif, of The Real Housewives of Beverly Hills, called 911
US website TMZ claims that the actor has been suffering from a hiatal hernia causing 'horrible, horrendous pain.'
Sheen's father, actor Martin Sheen, and mother, Janet Templeton, are said to be at his bedside.
Neighbors of the star backed up reports of a party on Wednesday night.
The neighbors reportedly heard women inside the actor's house singing along to Red Hot Chili Peppers songs. The party apparently went on until the early hours.
Emergency treatment: Sheen was taken to Cedars-Sinai hospital in Los Angeles
Emergency treatment: Sheen was taken to Cedars-Sinai hospital in Los Angeles
Sheen, who is said to be receiving treatment at the Cedars-Sinai hospital in LA, split from wife Brooke Mueller last year after he allegedly attached her at knife point on Christmas Day in 2009.
He was briefly hospitalized after the debauched night for 'psychological evaluation'.
The Two and a Half Men star was ordered to complete 30 days in rehab after he pleaded guilty to an assault charge in connection with the incident.
Since then, Sheen has been involved in a string of scandals, including an alleged alcohol-fuelled binge with porn star Capri Anderson at the Plaza Hotel in October last year, which left him in a New York hospital.
Sheen was understood to have hired a sobriety coach after the incident.
And earlier this month he apparently spent a weekend holed up in a Las Vegas hotel room with another porn actress, Bree Olson.
The pair reportedly spent the weekend in the upmarket Hugh Hefner Sky Villa inside the Fantasy Tower at the Palms Casino resort.
Source: daily mail
Tags:
actors
,
adult movies
,
Charlie Sheen
,
cinema
,
cocaine
,
drugs
,
gossip
,
hospital
,
movie
,
Movies
,
overdose
,
porn star
Filed under:
Bloggin'
,
Gossip
,
Movies
,
Strange news
,
Television