Saturday, January 29th, 2011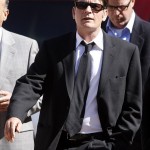 Charlie Sheen is now out of hospital and plans to return to work on Tuesday
A porn star who partied with Charlie Sheen just hours before he was hospitalized yesterday says he was 'wasted out of his mind'.
Kacey Jordan, 22, told TMZ she 'couldn't keep up' with the Two and a Half Men star, who was rushed to the emergency room in the early hours suffering 'severe abdominal pains.'
Sheen is now back at home and 'feeling great', according to the sitcom's producer Mark Burg, who adds the actor is expected to return to work on the show on Tuesday.
Adult film star Jordan, who claims she was at the actor's Beverly Hills home, says their 36-hour bender involved '$20,000 worth of drugs'.