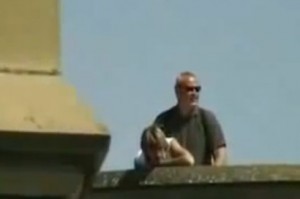 Ilse Uyttersprot, the mayoresse of the Belgian town of Aalst was "caught doing it" out in public while on a holiday…
Belgian Mayor Ilse Uyttersprot was filmed while having sex with her partner in the tower of Olite Royal Palace, Navarra.
A tourist, who also visited the site, took images with her camera and saw a couple having sex in a tower and recorded the scene. The incident occurred four years ago but the video came to light recently and unleashed a scandal.
Ilse Uyttersprot, mayor of the town of Aalst, Belgic, was caught having sex with her boyfriend on the battlements of a castle in Turkey. In broad daylight the couple has been caught accidentally by a group of tourists visiting the castle. The mayor believes that her work will not suffer at all due to the publication of the video.
More specifically, the mayor acknowledged that the woman on the video was her writing on her Twitter: "I have nothing to say. It is a private scene with my partner. The issue is politically irrelevant."
Source: Strange Guys, Live Leak, m24digital
Filed under:
Gossip
,
Strange news